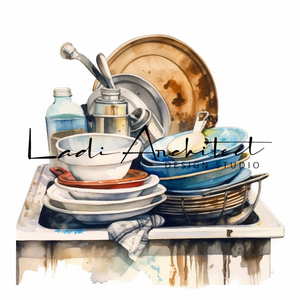 "Kitchen Chaos"
Description: These captivating watercolor images, created by LadiArchitect, presents a vivid portrayal of a sink brimming with dirty dishes. The artwork beautifully captures the essence of a familiar yet chaotic kitchen scenes that many can relate to. The sink, rendered in rich hues of blues and greys, serves as the focal point, drawing attention to the unruly pile of plates, bowls, and utensils.
The images invite viewers to contemplate the busyness of modern life and the perpetual cycle of domestic chores. It speaks to the shared experience of managing household responsibilities and the constant challenge of maintaining order amidst the chaos. The artist's choice to depict this scene in watercolor adds an element of nostalgia, reminiscent of traditional painting techniques that evoke a sense of warmth and familiarity.
These watercolor images of a kitchen and sinks full of dirty dishes serves as a poignant reminder of the beauty that can be found in the mundane. It resonates with those who appreciate art that captures everyday moments and transforms them into works of visual poetry.